We met with McLaine's Early Interventionist yesterday. She is a nurse with a specialty degree in child development. We were talking and filling out paperwork when she mentioned something about coming once a week. I thought she must be mixed up because she told me she had originally receieved another child's paperwork by mistake. I asked and she said "no, that's correct." So, the Early Steps program has decided to give McLaine therapy with the interventionist for one hour weekly! WOW the power of prayer! I pray every night that God would help McLaine to be the strongest and healthiest she can be and to help us find the tools to give her every opportunity. My prayers are answered totally unexpectedly :) We would not have been able to afford weekly physical therapy out of pocket so this is such a blessing! So, we set up some goals for the next 6 months.
In 6 months McLaine will:
*Sit with assistance (whether it's a boppy or just her hands) for 1 minute
*Use 2 fingers to grasp small objects (pincer grip, picking up things like puffs or cheerios off of the high chair tray etc)
*Babble with alternating sounds (aaa-oo-aaa-oo or ba ba ba ba)
I'm feeling really excited and hopeful :)
Miss Chiquita McLaine was a second place winner in our town's costume contest. Here's a couple pics: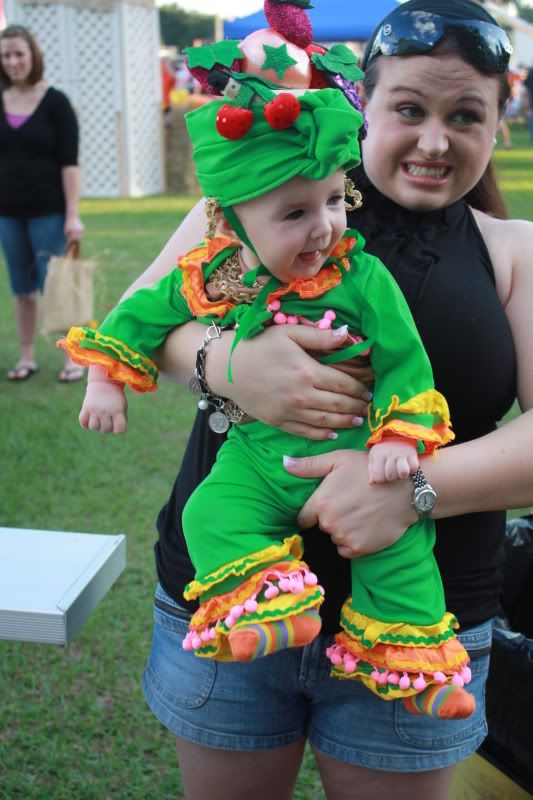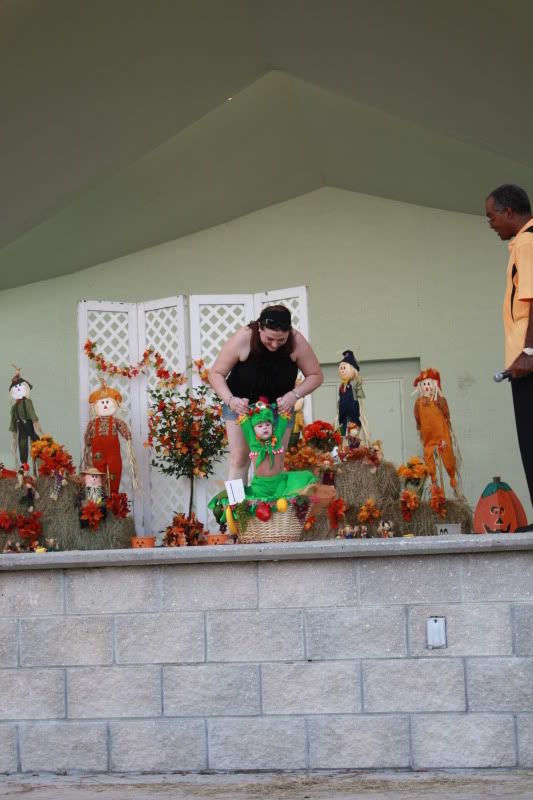 I made her the little fruit basket and she just looked like a little Arabian princess or something in it. She was adorable!
On a sadder note, I saw this on my homepage today:
http://http://www.aolhealth.com/health/fall-health/flu-shot-desiree-jennings?icid=mainaimdl3link2http%3A%2F%2Fwww.aolhealth.com%2Fhealth%2Ffall-health%2Fflu-shot-desiree-jennings
Being a parent is just so scary! McLaine already has had her first dose of the seasonal flu vaccine because she is one of those respiratory at risk children. She could die from the flu, but at the same time the vaccines are so scary in what you may be putting in your child's body and you don't even know. For now she has had all her advised vaccines. However, we are going with a delayed schedule for the rest of her vaccines. She will still receive all her vaccines by the time she is 5, just not on the advised schedule. I'd prefer her to get 1 vaccine every few months instead of loading her down with several in one visit. I also don't know how I feel about her getting flu vaccines after this year if she is no longer a respiratory risk. It's not because of this particular video. I just happened to see it and it just brings to light a lot of the risk involved. Anyway, I'm rambling. I just really feel for this girl.
On a happier note, we are picking up McLaine's pics from last week at JC Penney's. They are so adorable and I am so excited to see the prints!